Air Probe Dimensional Data – Dual Master – Series 10 – 50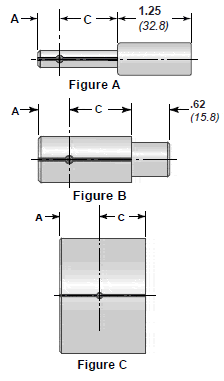 Body clearances
Clearances for series 10 thru 50 air gage members are referenced to the maximum material condition of the feature to be inspected. Determine the body size of an air probe by subtracting the clearance value shown in the adjacent table from the minimum part size. For air ring gages, add the value shown to the maximum part size.
Clearance recommendations
Low clearance . . Class 1 — for the highest accuracy applications such as select fitting of valve spools and sleeves where finishing tolerance is less than .00016" (4.1 µm).
Standard clearance . . Class 2 — best for most applications. Members are furnished to this specification when no other specification is given.
Extra clearance . . Class 3 — for applications requiring extra gaging range such as grinding and honing operations where sizing information is required before the final size is obtained.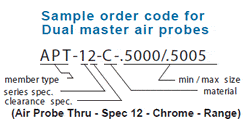 AIR PROBE DIMENSIONAL DATA, Series 10, 40, & 50
Air probe body dimensions ( inches / millimeters ):
Size

Dimension A
 
 
 
above -incl.
APT
APB
APS
Dim. C
Fitting
Figure
.059 – .073
1.50 – 1.85
.190
4.83
.080
2.03
.050
1.27
.625
15.88
#10-32 UNF
A
.073 – .120
1.85 – 3.05
.190
4.83
.080
2.03
.050
1.27
.625
15.88
#10-32 UNF
A
.120 – .183
3.05 – 4.65
.250
6.35
.085
2.16
.065
1.65
.750
19.05
.25-28 UNF
A
.183 – .300
4.65 – 7.62
.375
9.53
.095
2.41
.075
1.91
1.000
25.40
.25-28UNF
A
.300 – .485
7.62 – 12.32
.440
11.18
.095
2.41
.075
1.91
1.000
25.40
#10-32 UNF
B
.485 – .860
12.32 – 21.84
.500
12.70
.095
2.41
.075
1.91
1.000
25.40
.25-28 UNF
B
.860 – 2.510
21.84 – 63.75
.750
19.05
.095
2.41
.075
1.91
1.000
25.40
.50-20 UNF
B
2.510 – 5.865
63.75 – 148.97
.875
22.23
.105
2.67
.085
2.16
1.000
25.40
.50-20 UNF
C
5.865 – 8.260
148.97 – 209.80
1.062
26.97
.125
3.17
.105
2.67
1.000
25.40
.50-20 UNF
C
Air probe body clearances ( inches / micrometers ):
Size
Clearance class
above – incl.
1
2
3
.059 – .120
1.50 – 3.05
.00015
3.81
.0003
7.62
.0006
15.24
.120 – .183
3.05 – 4.65
.00015
3.81
.0004
10.16
.0008
20.32
.183 – .540
4.65 – 13.72
.0002
5.08
.0005
12.70
.0010
25.40
.540 – 1.510
13.72 – 38.35
.0003
7.62
.0006
15.24
.0012
30.48
1.510 – 3.010
38.35 – 76.45
.0004
10.16
.0008
20.32
.0014
35.56
3.010 – 4.510
76.45 – 114.55
.0005
12.62
.0009
22.86
.0018
45.72
4.510 – 6.510
114.55 – 165.40
.0007
17.78
.0012
30.48
.0022
55.88
Standard jet diameters ( inches / millimeters ):
Size
Series #
above-incl.
10 & 50
40
.059 – .073
1.50 – .185
.018″
.046
NA
NA
.073 – .120
.185 – 3.05
.023″
.058
NA
NA
.120 – .183
3.05 – 4.65
.042″
1.07
NA
NA
.183 – .323
4.65 – 8.20
.047″
1.19
NA
NA
.323 – 9.26
8.20 – 235.4
.050″
1.27
.078″
1.98
Accessories for Air Probe – Dual Master – Series 10 thru 50
AIR GAGE SIZE
ABOVE-INCL
DASH
NO.
THREAD
SIZE
HANDLE
Dia. H
(EXTENSION DIMENSIONS)
(EXTENSION PART NO.S)
Dia. S
L
P
DIM E = 4 in.
DIM E = 6 in.
.059-.120
-3
#10-32 UNF
.287″
.312″
1.62″
.38″
AHE -34
AHE -36
.120-.300
-4
.25-28 UNF
.437″
.437″
1.62″
.38″
AHE -44
AHE -46
.300-.485
-3
#10-32 UNF
.287″
.312″
1.62″
.38″
AHE -34
AHE -36
.485-.860
-4
.25-28 UNF
.437″
.437″
1.62″
.38″
AHE -44
AHE -46
.860-UP
-8
.50-20 UNF
.812″
.750″
1.75″
.25″
AHE -84
AHE -86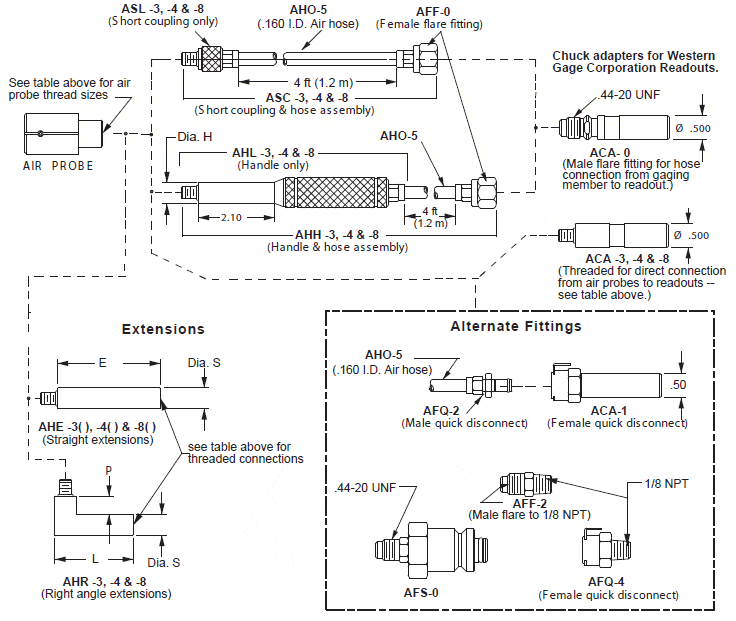 AIR PROBE ACCESSORIES,
SERIES 10 THRU 50
AHH-3 Handle & hose – #10-32 UNF
AHH-4 Handle & hose – .25-28 UNF
AHH-8 Handle & hose – .50-20 UNF
AHL-3 Handle only — #10-32 UNF
AHL-4 Handle only — .25-28 UNF
AHL-8 Handle only — .50-20 UNF
ASC-3 Short coupl'g & hose – #10-32 UNF
ASC-4 Short coupl'g & hose – .25-28 UNF
ASC-8 Short coupl'g & hose – .50-20 UNF
ASL-3 Short coupling only — #10-32 UNF
ASL-4 Short coupling only — .25-28 UNF
ASL-8 Short coupling only — .50-20 UNF
AHE-34 Extension, 4 in. – #10-32 UNF
AHE-36 Extension, 6 in. – #10-32 UNF
AHE-44 Extension, 4 in. – .25-28 UNF
AHE-46 Extension, 6 in. – .25-28 UNF
AHE-84 Extension, 4 in. – .50-20 UNF
AHE-86 Extension, 6 in. – .50-20 UNF
AHR-3 Rt. Angle adapter – #10-32 UNF
AHR-4 Rt. Angle adapter – .25-28 UNF
AHR-8 Rt. Angle adapter – .50-20 UNF
COMPARATOR FITTINGS
ACA-0 Chuck adapter — male flare
ACA-1 Chuck adapter, quick disconnect
ACA-3 Chuck adapter — #10-32 UNF
ACA-4 Chuck adapter — .25-28 UNF
ACA-8 Chuck adapter — .50-20 UNF
ACA-9 Chuck adapter, male flare w/bleed
AFS-0 Set lock adapter, male flare
AFF-2 Male flare — 1/8 NPT
REPAIR PARTS
AHO-2 4.0mm Air hose only ( Metro )
AHO-4 .125 Air hose only
AHO-5 .160 Air hose only
AFF-0 Female flare – .160 hose barb
AOR-3 O-rings for – 3 accessories, 10 pcs
AOR-4 O-rings for – 4 accessories, 10 pcs
AOR-8 O-rings for – 8 accessories, 10 pcs
ACF-10 Chuck Nut & Brass Collet