For fast and accurate gaging solutions, LVDT electromagnetic inductive sensors provide hard contact gages with extended gaging ranges and excellent linearity.

Piston inspection Fixture utilizes LVDT Inductive Probes to check O.D.s and Air Probe to check I.D.s.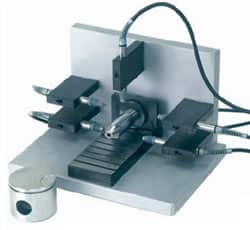 Vee Gage checks hydraulic valve spool O.D.s utilizing opposed set of LVDT Inductive Probes.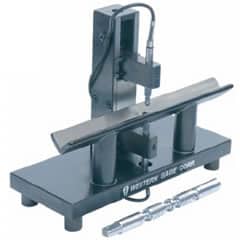 Air Spindle, LVDT Inductive probes & Flexure gages used in inspection stations for scroll compressor parts.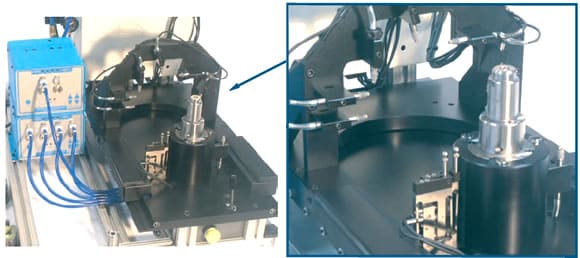 LVDT Inductive Gages and Accessories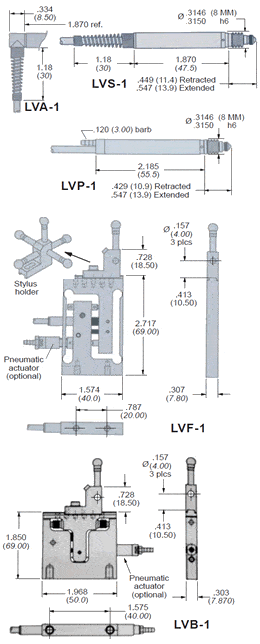 LVS-1 Spring push type LVDT inductive gaging cartridge with internal linear ball bushing guide,viton gaiter, Ø 3 mm carbide ball tip and 2 meter cable with Hirose 7 mm connector [P/N HR10-7P-6P (73)]
Gaging range … ± 1 mm
Pretravel: .15 mm
Tip force: 70 gm±20%
Linearity: 0.5% of Reading
Tips are threaded M2.5x.45 (see optional tips below). Other ranges are available on special order.
LVA-1 Right Angle Adapter kit for LVS-1 gaging cartridges.
LVP-1 Pneumatic push LVDT inductive probe. Same specifications as LVS-1 inductive probe except as follows.
Tip force: 82 gm @ 6 psi
                285 gm @ 15 psi
Pretravel: .30 mm
(Max. pressure 15 psi)
LVF-1 LVDT sensor integrated in parallelogram flexure motion transfer linkage. Electrical specifications are the same as LVS-1, add suffix "P" to include pneumatic actuator.
LVR-1 Reverse acting version of LVF-1
LVB-1 LVDT sensor integrated in block style transfer mechanism using linear ball bearings. More rugged and available with greater gaging range than flexure style, but side play limits the gaging accuracy in tight tolerance applications. Electrical specifications are same as LVS-1.