Industrial Computer with 10 Circuit Air Spindle. Checks size, roundness and concentricities of crankshaft bearing bores in V-8 Engine casting.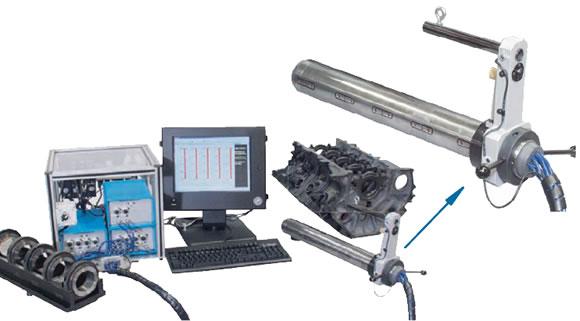 P.C. Computer Gaging Stations
CWK-2 Industrial computer
IBM PC compatible computer with LCD Monitor. Communication ports: 1 Ethernet card, Parallel, Serial, and USB ports. Includes SPC software programs supporting variables and attributes charting and full statistical reporting. Check factory for detail specifications on this item.
CWK-USB Base module
Base USB module, interfaces input modules with gage station computer. Connects directly with PC through USB cable and supplies power to other modules from a 110/220 VAC 50/60 Hz outlet.
CWK-AL4 Analog module
Quad Analog module, reads four channels of analog signals per module. Configured for ±10 VDC, other ranges optional. Includes foot switch input. Uses Hirose HR 10A-7R- 6S Connectors.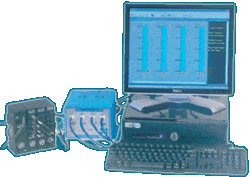 CWK-LV4 LVDT module
Quad LVDT module, drives four LVDT or Half bridge gaging cartridges. Has 127 software configurable gain settings per channel. Includes foot switch input. Uses Hirose HR 10A-7R-6S Connectors.
CWK-IO Digital I/O module
Digital Input/Output module. Sixteen inputs & outputs per module. Inputs: 12-24 VDC, auto sourcing or sinking. Outputs: sinking 1 ampere max. Uses 37 pin d-Sub female connector.